Listen to the episode right here OR on your favorite podcast streaming platform! You could also choose to read the episode in the article below if you prefer!
Retail Revelations with Dan Holman
S6 Ep1
---
In the dynamic world of retail, success isn't solely dependent on innate talent. While talent can be a valuable asset, it's often the less tangible qualities that set individuals and businesses apart. In this week's blog, Dan shares 10 essential elements of retail success that require no special talent but will make a world of difference in a retailer's journey to triumph.
Be On Time

– Punctuality is a cornerstone of reliability and professionalism. Being on time shows respect for your customers, colleagues, and your business. It sets a positive tone for all interactions.




Work Ethic

–

Your work ethic reflects your commitment to achieving the goals you set. It's about putting in the effort, staying focused, and consistently giving your best, regardless of your skill level.

Effort

– Effort is the application of energy towards achieving a goal. It's a choice anyone can make, regardless of their inherent abilities. Dedication and hard work can compensate for lack of talent.
Body Language

– Non-verbal communication is a very powerful tool. Your body language, including eye contact, posture, and facial gestures, can convey confidence and approachability, making a significant impact on colleague and client interactions.
Energy

– Positive energy is contagious. Exuding enthusiasm, optimism, and vigor creates a welcoming atmosphere and fosters a connection with your team and your customers.
Attitude

– A positive attitude turns challenges into opportunities. It influences how you approach problems, setbacks, and difficult situations. The rising tide that lifts all boats is ALL about your perspective and your attitude.
Passion

– Passion is an inner drive that fuels a desire for happiness and success. It's the enthusiasm and love for what you do that inspires your team and attracts loyal customers.
Being Coachable

– Successful retailers are open to learning and growth. Being coachable means being receptive to feedback and willing to adapt and improve.
Doing More

– Going the extra mile sets you apart in the retail world. Providing exceptional service and going beyond what's expected creates the purest form of customer loyalty.

Being Prepared

– Preparation is a key to success. It includes staying organized, anticipating your team's and your customer's needs ensuring you're ready to provide needed solutions. Being well-prepared makes all interactions smoother and more efficient.
In conclusion, talent may be a bonus, but it's not the foundation of retail success. The 10 qualities listed above require no special talent but can make a remarkable difference in your retail journey (and your team's journey). These qualities form the building blocks of a successful retail business (or career). By focusing on these attributes, you will set yourself on the path to achieving your retail aspirations, building a strong reputation, and gaining the trust and loyalty of customers and colleagues alike. Success in retail is within your reach, and it's not dependent on talent alone, but on your dedication to cultivating these essential traits.
Happy Retailing!
Dan
About Dan Holman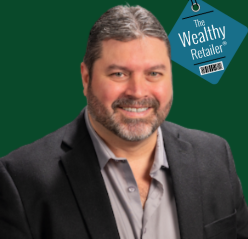 Dan has spent 30+ years in the retail and service industries. Specializing in marketing & business development, inventory planning, operations and customer driven sales management, he is an award winning business coach with a proven understanding of what it takes to be successful as an entrepreneur. Dan spent 16 years in senior management and ownership roles with multi-store retailers before joining Canadian Retail Solutions as their CEO, Director of Retail Planning. Dan works directly with clients coast to coast representing hundreds of retail categories. He is the founder of The Wealthy Retailer®, a boutique consulting firm guiding independent retailers to growth, improved profitability and more cash.