Directly Comparing Our POS Solutions to Kick-Off Your Point of Sale Search
The age-old saying "Comparing Apples to Oranges" means you're comparing two completely different items with no likeness to the other, therefore determining that any comparisons are invalid.
When we use this saying in relevance to point of sale (POS), we are making a clear statement that each of the POS solutions we offer are entirely unique, and serve retailers in different ways. Depending on what your retail business strategies and goals are, which POS system you choose to run your business on can be one of the most important decisions an independent retailer can make.
Overwhelming, right? We know!
If only there was a way to see side-by-side what some of these systems offer to help determine the right path…
Don't Get Ahead of Yourself!
First things first – you need to fully understand what it is your retail business needs out of the POS solution you choose, otherwise comparing the POS solutions won't mean anything to you or your business. You'll need to determine the "must-have features" in order for your business to be successful. We have an awesome guide for this very reason that makes for a great starting point!
The POS Toolkit offers retailers a FREE step-by-step manual that includes 10 Tips to Consider BEFORE You Choose Your POS, a 6-Step Checklist for a Successful POS Search, and a BONUS Guide to a Software Needs Analysis. Before you can even begin to compare POS apples to POS oranges, it's crucial to understand what your specific retail business needs are!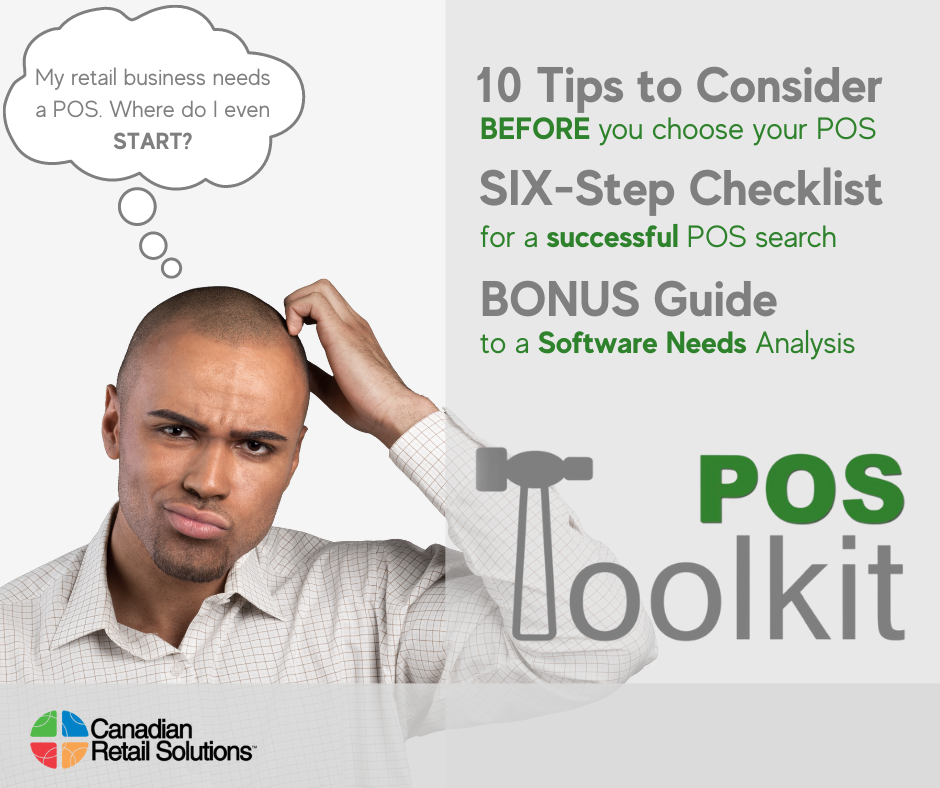 Narrowing Down the POS Search
We've been in the industry for more than 30 years, and over this time, we have gained extensive knowledge on many of the POS solutions out on the market. We've worked with hundreds of retailers, all on different systems, and truly understand what works and what doesn't in retail tech. Out of ALL of the options out there, we've partnered with what we believe to be the best-of-the-best in POS technology.
Below is a comparison chart of the 4 POS solutions we offer – Retail Pro, Global Payments POS/Heartland, Shopify, and Lightspeed. While the information listed here doesn't even cover HALF of the features each system provides, these are the highlights that will, at the very least, narrow your search down.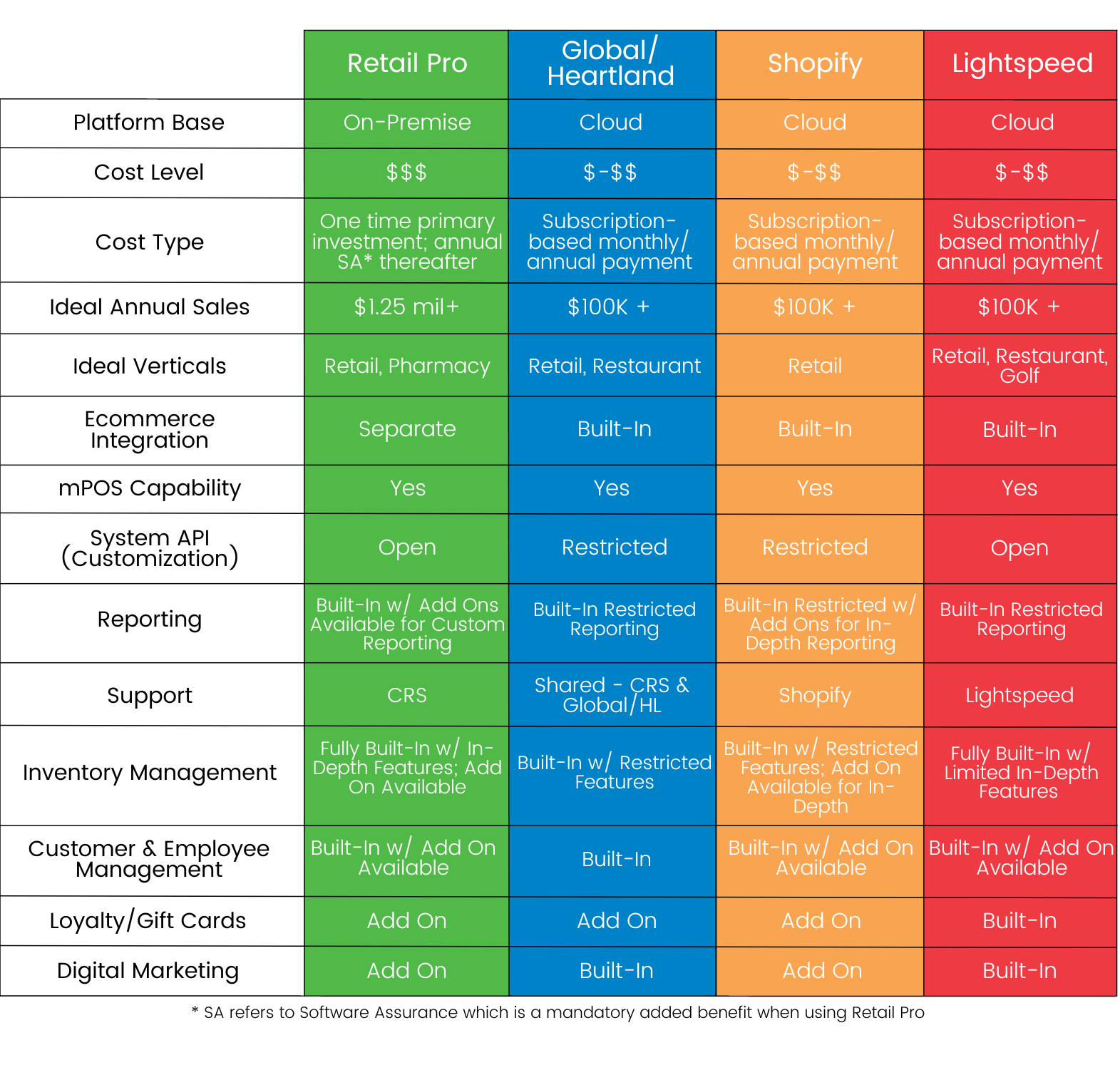 When in Doubt, Reach Out!
At the end of the day, as a retailer, you are an expert at what you do. You know the ins and outs of running your retail business, and the procedures you need to follow. You know how to connect to customers, run a staff, and manage the books. It's completely okay if retail technology isn't something you fully understand…
Just as you're an expert at what you do, we are experts at what we do, too…and we know retail POS!
Book a no-charge professional consultation with us today, and we'll guide you through a complete needs analysis of your retail business to help determine which system is the right one for you. As a Retail Operations Partner, the success of our business depends on the success of our retailers, and at the core of a retailers success is the RIGHT system, doing the RIGHT things at the RIGHT time.
Contact Us